At Kingsview, it is our mission to foster a culture of quality for our customers, community, and employees. We guarantee value solutions to exceed expectations.

Asphalt Paving
There is much to consider when you are looking into an investment into your home and property. Here at Kingsview, we can appreciate this. It is our intent to develop long term relationships with our customer and the most effective way to do this is by explaining the options available to each customer and their unique paving needs.

Asphalt Maintenance & Repair
Seal Coating can extend the life or your blacktop by providing a protective barrier to salt, chemicals and moisture.  Having a maintenance schedule can save money on replacement costs and adds a rejuvenated, new look to older asphalt.

Excavation & Demolition
Offering an environmentally friendly, economical way to clear large or small tracts of land at a fraction of the cost and time needed for conventional land clearing, creating a park-like setting with no waste of natural resources.
About Kingsview Paving & Excavating Inc.
In 1980, Kingsview began as a lawn care company. The name was taken from the Buffalo Development that the Rauh family lived while in Williamsville, NY. When John F. Rauh's dad, John Richard Rauh, was transferred to Jamestown, there was a need to find summer employment to meet college expenses. At the request of John's mom, Hildegarde Rauh, he wanted to stay in the Jamestown area. John enlisted his brothers to help form Kingsview. Because of their integrity, hard work and dedication, Kingsview developed into Kingsview Enterprises Inc.; a full-service paving & sealcoating contractor. It was a family business from the beginning, with his dad managing the books, his mom and sisters taking calls, and the boys worked in the field.
Soon Kingsview was too big to work out of the family home so they purchased the Lakewood Depot. This Lakewood landmark remains the headquarters of Kingsview to date. In the early 1990s, the business branched out its services into excavations, site preparation, concrete and demolition. 
 Kingsview not only provides services in the Chautauqua County area, but also in Cattaraugus and Erie Counties and Northern Pennsylvania. With John R. Rauh as CFO, John F. Rauh, President and Robert A.Rauh Sr. as Senior Vice President and Field Supervisor, you need to look no further if you want a quality paving job, a range of asphalt services, excavation, site preparation or concrete. With the addition of Robert A. Rauh Jr. on the paving crew, Kingsview is now a third generation business with all the experience and knowledge that comes with years of dedication to their craft.
It's still a family affair at Kingsview. It is not uncommon to see any one of the Rauh children pitching in at the office, helping out with estimates, running bids, or working in the field if needed. Even though most of the older children have careers of their own, they remain dedicated to Kingsview. Our employees are like family as well. We would not be a success without the hard work of the people that support us on a daily basis.
Extended Warranty
Kingsview remains one of the only local companies that gives extended warranties.  If contracted for a full depth paving project where the subbase can be guaranteed, the job can be warranted up to ten years! With a maintenance schedule of seal coating and crack filling when necessary, your asphalt project can always look like new. *All materials used are DOT approved.
The Newest Technology
Keeping ahead of the curve with regard to the newest equipment and technology is imperative for enhancing productivity which in turn leads to the best end product for our customers.  Kingsview prides itself in keeping 'The Boys in Blue' with its fleet of trucks and equipment as update and automated as possible.  But updated automation doesn't end with the equipment.  Kingsview also is a leader in developing new asphalt mixes that will weather our tough winters and hot summers. 
Our Team
One of the keys to Kingsview's success is our Management Team.  Their expertise in coordinating, planning, communicating and timely completion is unparalleled.  A customized approach for each project allows each job to reach that pinnacle of quality that customers have come to expect. Keeping up to date with cutting edge techniques is not only mandated but expected.  All of our managers and employees attend regular training and recertification sessions in their perspective fields.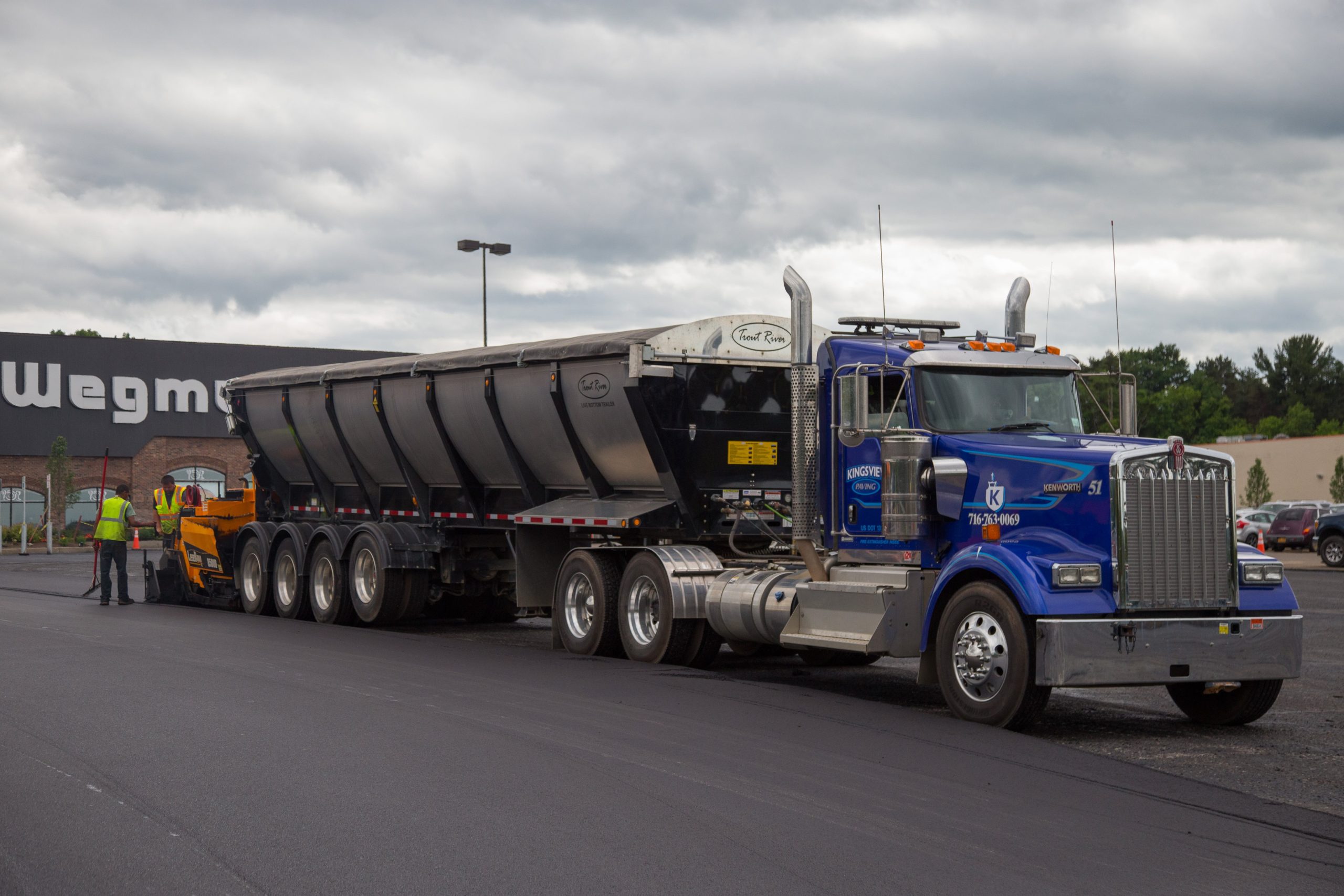 "Thank you so much for the job well done on our driveway. It looks amazing and better than anticipated. We did not get to meet the crew, as we were working, but did speak with some of them prior to the job and they were very friendly. We received two other estimates from two different companies and neither of them even came close to pricing to Kingsview. When we got the estimate from you, we jumped right on it and could not pass up the opportunity to work with your company. We will be referring your company to anyone we come across that is looking for paving or any of your other service needs."